Household Recycling for Oregon & Washington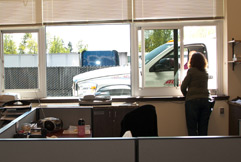 R.S. Davis Recycling buys all kinds of scrap metal, including steel, aluminum, copper, stainless steel, brass and tin. Many homeowners are surprised how much they can get for their scrap metal, especially after a large home improvement project or cleanup. Customers come from all over the Portland/Vancouver metro area, Clackamas County, and eastern Oregon and Washington to recycle their metals with us. If you've never been to a scrap yard before, here's what you can expect at our clean and professional facilities:
You'll check in at the scale or our Non-Ferrous Office
Our buyers/operators will inspect and identify each type of metal you have
You'll unload your scrap metal into a designated area in the facility
You'll be paid a fair market price for your metal
If the material you're selling is ferrous, we'll pay you cash upon checkout. If the material is non-ferrous, we'll write you a check (which under Oregon law, must be held for three days before mailing.) Remember to bring some form of valid DMV issued ID with you. For safety, we suggest wearing closed-toe shoes; and if your scrap requires unloading with the crane, please do not bring children along.